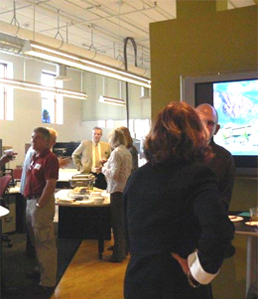 The Colorado Springs Downtown Partnership chose the RTA offices to be the site of their quarterly Membership Mixer. The late afternoon gathering included light hors d'oeuveres provided by the Springs Rescue Mission, wine by Vintages Wine and Spirits, and hand-crafted ale by Phantom Canyon Brewing Company.
Approximately 90 guests mingled around the third floor of the historic Hibbard Building (repurposed, updated and designed in 1997 by RTA Principal Perry Lewis).
Earlier in the week, the RTA offices had experienced a whirlwind clean-up by architects who are prone to living around creative piles of paper, samples, drafts, and construction documents. Downtown merchants and business owners enjoyed touring the newly tidied office and many comments were made about the open design and interesting office space.
The mixer also provided ample opportunity for business connections. RTA owner and Principal Randy Thorne said, "It was a great opportunity for me to reconnect with a bunch of business associates that I hadn't seen for a while. We appreciated the exposure."