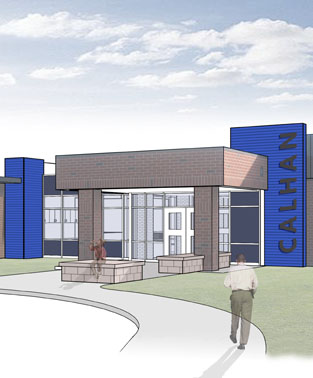 RTA and the Calhan School District celebrated the completion of their recent PK-12 renovation project with a ribbon cutting ceremony on August 21, 2013. RTA began the design on the $2 million project in January 2013; and after four months of construction, the school was ready for students heading back to school for the 2013-2014 school year.
Funded in part by a BEST grant, the project provided needed upgrades and improvements to Calhan's PK-12 building including fire alarm upgrades, emergency egress lighting, surge suppression on the electric service, exit doors at the auxiliary gym and a new public address system. Building additions provided a new security vestibule and relocated administration area while renovated areas include the media center, technology lab and classrooms.
RTA's design team of Brian Calhoun, Mike Riggs, and Ken Gregg attended the ribbon cutting ceremony, along with GH Phipps Construction, Vanir Construction Management, school staff, parents, students, and members of the community.