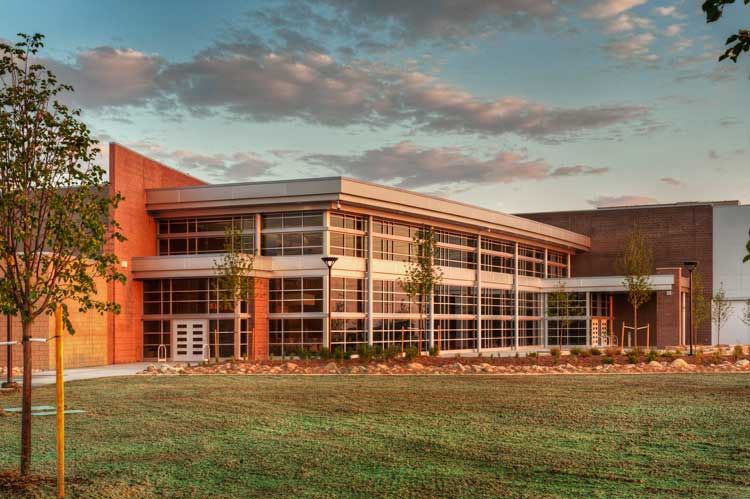 Vista Peak Preparatory School was recently certified LEED Gold by the U.S. Green Building Council. The Leadership in Energy and Environmental Design (LEED) Green Building Rating System is a point-based benchmark for the design, construction, and operation of high-performance green buildings. LEED Gold status illustrates a very high level of sustainability.
RTA in partnership with MOA Architecture designed the new Aurora high school which was completed in 2011. As the first new high school designed for Aurora Public Schools in over 30 years, considerable effort went into making sure the school represents the state-of-the-art in terms of educational philosophy, building performance and building flexibility. Developed on the 100-acre Aurora Public Schools Educational Campus, the high school shares a cohesive campus plan with a Pre-K through eighth grade school, and a future district stadium. Planning for the site included a Joint Use Facility for higher education and Public Recreation Center or Library.
The APS High School is designed to minimize energy use and provide sustainable architecture focused on the success of students and the community. Displacement ventilation systems deliver air to students in a quieter and more efficient way. Utilizing daylighting in almost all classrooms enhances the interior environment, saves energy, and improves student performance. Use of native landscape materials on site reduces water use and the building becomes a teaching tool with its green roof system and photovoltaic array located within an extraordinary outdoor science classroom.
Other teaching tools include a Green Touch Screen located on the school site which allows visitors, users, students and staff to view specific green building practices and live updated operational data; and Sustainability Case Study which is available for anyone interested in reading about the environmental practices implemented in the project.