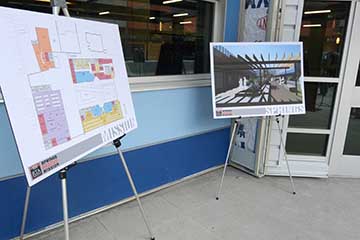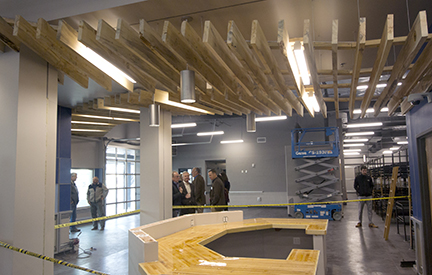 RTA Architects and Nunn Construction announce the opening of the new 168-bed year-round shelter at the Springs Rescue Mission (SRM). This is one of several phases to assist SRM with the expansion of services to the homeless and other at-risk residents of Colorado Springs. RTA Architects completed a comprehensive master plan for the Springs Rescue Mission to provide for immediate and future needs through a vision of "design with dignity." The reception desk was made from recycled bowling alley lanes and will greet guests as they enter the bright, LED-lit space. The wood feature overhead was crafted from trees that endured the Colorado Springs Waldo Canyon and Black Forest fires of 2012 and 2013.
Future phases include: the Resource Center projected to open in the Spring of 2017 providing laundry, and showers and dedicated space for services from multiple agencies including physical and mental health; a new Welcome Center; and a large kitchen/dining facility with dining for 200, dedicated space for job training in the culinary arts, and dedicated space for Mission Catering.
Read the full press release here.