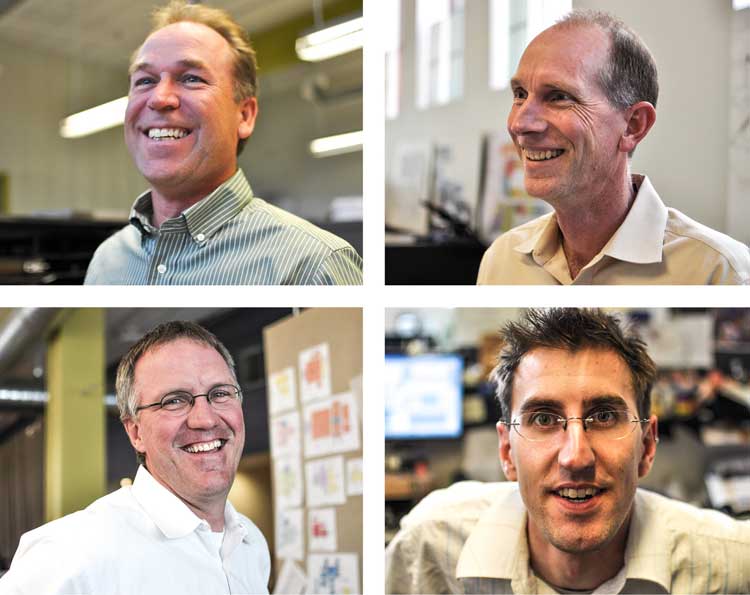 Colorado Springs, CO – RTA Architects' Kevin Gould, Paul Reu, Ken Gregg, and Mike Riggs have received recent promotions.
Kevin Gould, AIA has been elevated to Principal. Kevin has 28+ years designing and managing projects in diverse market segments. Since joining RTA in 2008, he has led a variety of complex healthcare projects, bringing design expertise and superior client service to the firm's clients.
Paul Reu, RA; Ken Gregg, AIA; and Mike Riggs, AIA; LEED AP BD+C have been named Associates.
Paul has thirty years of experience in architectural design and joined RTA in 2008. He has managed numerous healthcare projects, including the recent award-winning emergency department renovation at Penrose Hospital in Colorado Springs.
Ken's 20 years of architectural experience include nine years with RTA. He plays a key role in creating award-winning educational facilities for Colorado schools, including the new Ignacio Middle School and the Gottlieb Building renovation at Colorado School for the Deaf and the Blind in Colorado Springs.
Mike joined RTA upon graduation in 2002, focusing on educational and retail clients. He was instrumental in the award-winning design of Ignacio Elementary School, multiple projects for Boulder Valley School District, and several buildings at University Village Colorado in Colorado Springs.
Founded in 1975, RTA Architects is a firm of 34 staff members specializing in healthcare, education, retail, and commercial projects. RTA Architects provides extensive expertise in planning, interior design, and architectural services supporting local, national, and international communities.